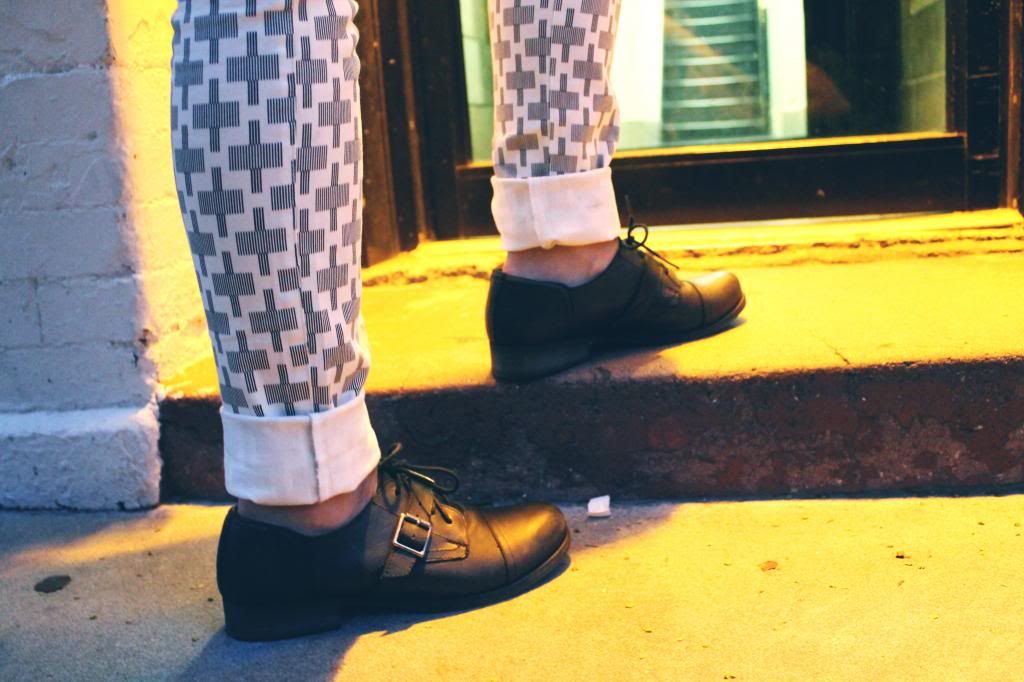 Loving these monochrome pants from Bettina Liano, I decided to pair them with this yellow top to add some color along with some gold jewelry.
These rings are my life from Vida Kush every little piece they have is amazing I got my hands on these at their pop up shop in Soho a couple weeks ago, I fell in love with the eye ring and of course the Ganesh one was the first thing I got lol. The gold bracelets are from Seasonal Whispers a new shop in Soho with amazing hand made jewelry, I actually got to meet the designers and they were so sweet, if you are around go over to their shop and support local designers, if the city is too far for you check them out here you will fall in love. These shoes are also my new obsession can not wait to style them with more outfits.
Sorry about the quality of the pictures it was getting dark and I guess I was used to shooting after 7:30 but now it has been getting darker earlier and colder at night..so ironic two weeks ago I couldn't wear more than a tank top and a flowy skirt.
I put some non permanent dye in my hair is lavender but it looks a little lighter in pictures. Hope you're enjoying this beautiful day xx
Me encantan estos jeans de Bettina Liano, decidi combinarlos con este top amarillo para darle un poco de color junto con los accesorios de oro.
Amo estos anillos de Vida Kush cada cosita que tienen es increible, consegui estos hace un par de semanas en un pop up shop que tuvieron en Soho por un par de dias, me enamore del anillo de ojo y por supuesto que el de Ganesh fue el primero que compre jaja. Las pulseras son de Seasonal Whispers una nueva tiendita en soho con lindas cosas hechas a mano, si estan por aqui vayan a su shop y apoyen a disenadoras locales, si nyc esta muy lejos para ti chequealos aqui. Estos zapatos tambien son mi nueva obsesión no puedo esperar para combinarlos con otras cosas.
Disculpen por la calidad de las fotos estaba oscureciendo y supongo que estaba acostumbrada a tomar fotos despues de las 7:30 pero ahora oscurece mucho mas temprano y esta haciendo un poco de frio en las noches...tan ironico hace un par de semanas no podia usar nada mas que una falda suelta con un top delgadito.
Me puse un poco de tinte no permanente es como un lila lavanda pero se ve un poco mas claro en las fotos. Espero que esten disfrutanto este lindo dia.
ॐ
Shirt-Francesca's
Jeans- Bettina Liano
Shoes- Steve Madden
Rings- Vida Kush
Bracelets- Seasonal Whispers