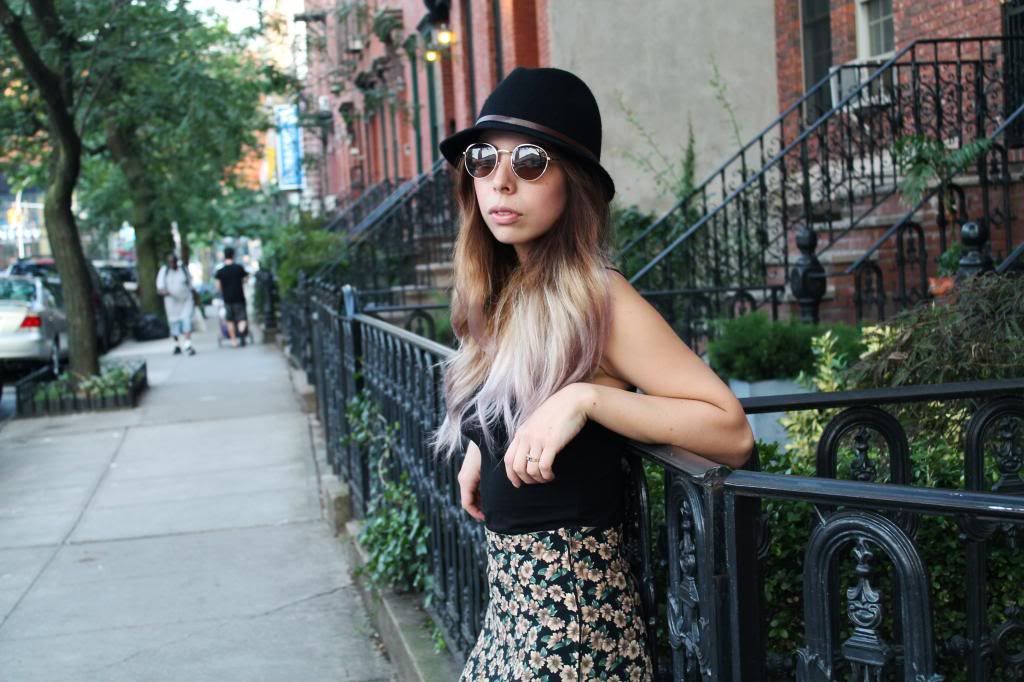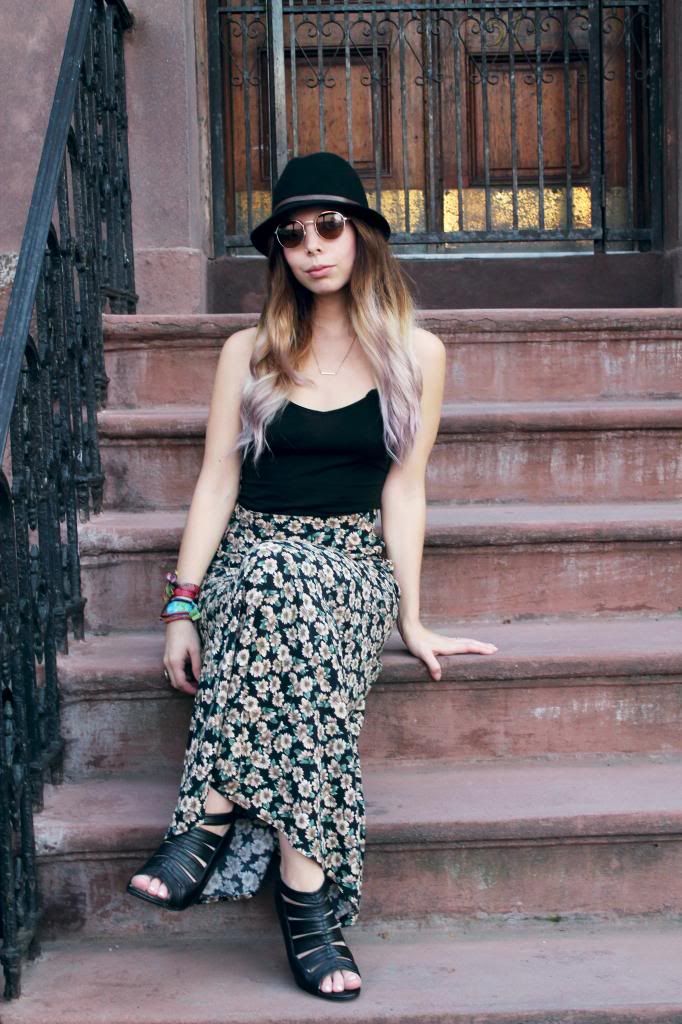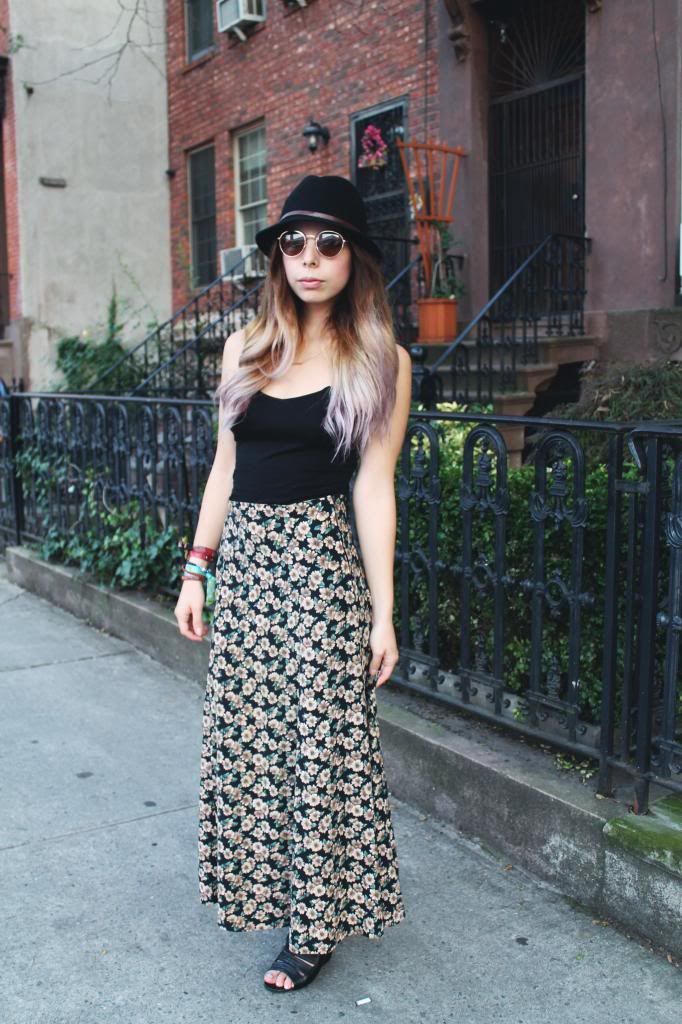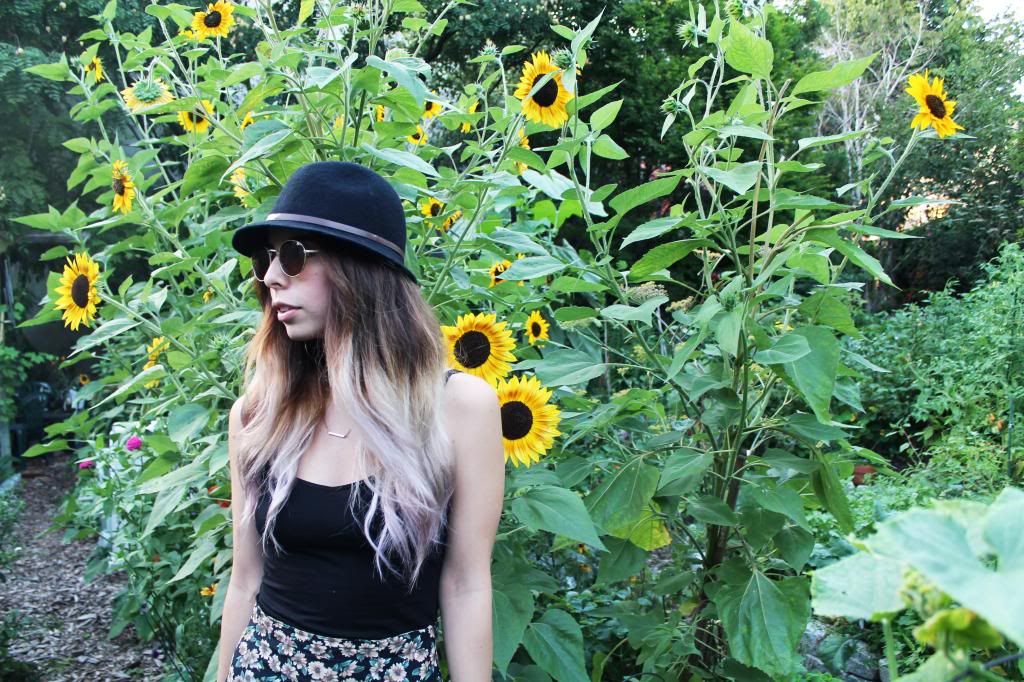 I know I have been slacking with the blog posts but I have been crazy busy lately, I am getting closer to finish this schools quarter and with work and now fashion week I have been barely even sleeping, but it is so worth it because I had tickets to attend a couple shows yesterday and considering it was the first time I attended a show during fall fashion week I was extremely happy and excited all day..I will blog the awesome outfit I wore soon!! I shot this look a little while ago but I lost the pictures in my computer, I couldn't find them for the longest time until I came across them by accident the other day in a random folder. I scored this amazing skirt at a thrift store a few weeks ago, it was love at first sight and it fits perfectly..when I find pieces so perfect at a thrift store that I don't have to fix up or modify whatsoever I feel like I was destined to find them lol, I also got a lot other awesome vintage pieces that I can't wait to style and show you guys! Sadly summer is almost gone and I didn't even get to blog a lot of summer outfits that I have, I might start doing those outfit collages if time keeps going against me.
Hope everyone has an awesome weekend and fashion week ;) xoxx
Se que no he estado postiando muy seguido hora ultimo pero he estado super ocupada, se esta por acabar mi semestre de la U y con el trabajo y ahora la semana de la moda aqui en NYC ni duermo jaja, pero vale la pena porque tenia tickets para atender unos cuantos shows ayer y considerando que era mi primera vez atendiendo a un show durante la semana de la moda estaba extremadamente feliz y emocionada todo el diaa..posteare las fotos del outfit increible que use ayer pronto!!
Tome estas fotos hace un tiempo pero perdi las fotos en mi computadora, no las podia encontrar por un buen tiempo hasta que las vi en un folder por ahi escondidas.
Esta falda es vintage y la encontre hace unas semanas, fue amor a primera vista y me la talla me quedo perfecta...cuando encuentro cosas tan perfectas en una tienda de segunda que no les tengo que modificar ni arreglar nada siento que estaba destinada a encontrarlas jajaja, tambien compre otras cosas vintage que no puedo esperar para mostrarles!!
Lamentablemente el verano ya casi acaba y la verdad que no tube tiempo de postear bastantes outfits de verano que tengo, creo que voy a empezar a hacer esos collages de outfits pronto.
Espero que tengan un lindo fin de semana y si están en New York una linda semana de la moda ;) besos!
ॐ
Skirt-Second hand(similar here)
Hat-Similar
Shoes-DSW
Sunnies-Urban Outfitters