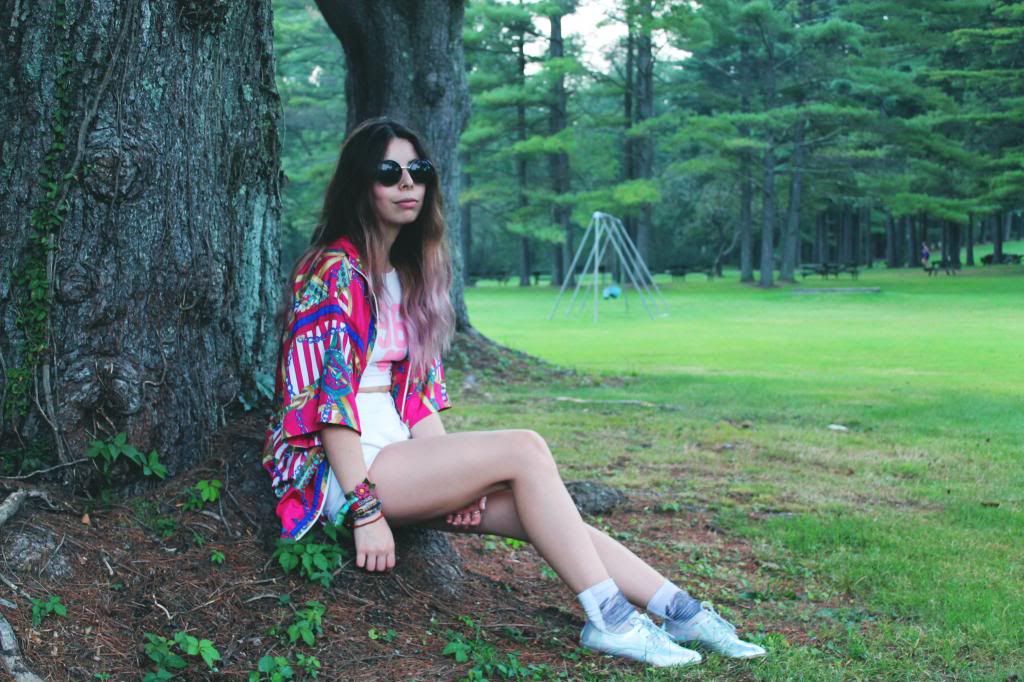 It's been a while since my last post, school is driving me crazy this quarter, so many projects and papers already that I have no time to shoot or edit pics whatsoever. This shoot is from a month ago when I went home for my birthday, we had so much fun shooting it, as you can see I love nature so laying on the grass and running around with my puppy was lovely.
This shirt is an amazing vintage find from last winter that was actually brand new, I had to pair it with these irisdecent oxfords and what better top than this one to go with it?
The crop top is from declared , I have posted a couple of their stuff before and I still have more shirts from them to shoot that you will see soon...their stuff is pretty rad especially their alien tees check them out!!Anyway I gotta finish some homework because I have class all day I will post a couple other shoots this week, I have been trying to fix my schedule a little.
Hope you enjoyed the little pug socks although you can barely see them lol
Have an awesome week xxox
Ha pasado bastante tiempo desde mi último post, la U me esta volviendo loca este semestre, demasiados proyectos y ensayos que no tengo tiempo para tomar fotos o editarlas. Este shoot es de hace un mes cuando fui a CT por mi cumple, nos divertimos tanto, como verán amo la naturaleza así que correr con mi perro y acostarme en el césped fue lindo.
Esta blusa es vintage y la encontré nueva en el invierno, tenía que combinarla con estos zapatos y que mejor top que este para cerrar. El top es de declared, he postiado varias cosas de esa tienda antes y aún tengo más cosas que no he tenido tiempo de usar pero que pronto verán.
En fin tengo que terminar mucha tarea..esta semana posteare más looks porque he estado tratando de balancear mi horario. Espero que les haya gustado las medias de perrito aunque no de ven mucho jaja. Tengan una semana increíble besos!
ॐ
Shirt-Vintage
Crop Top- Declared
Shorts-Second Hand
Shoes-Daily Look
Socks-Top Shop