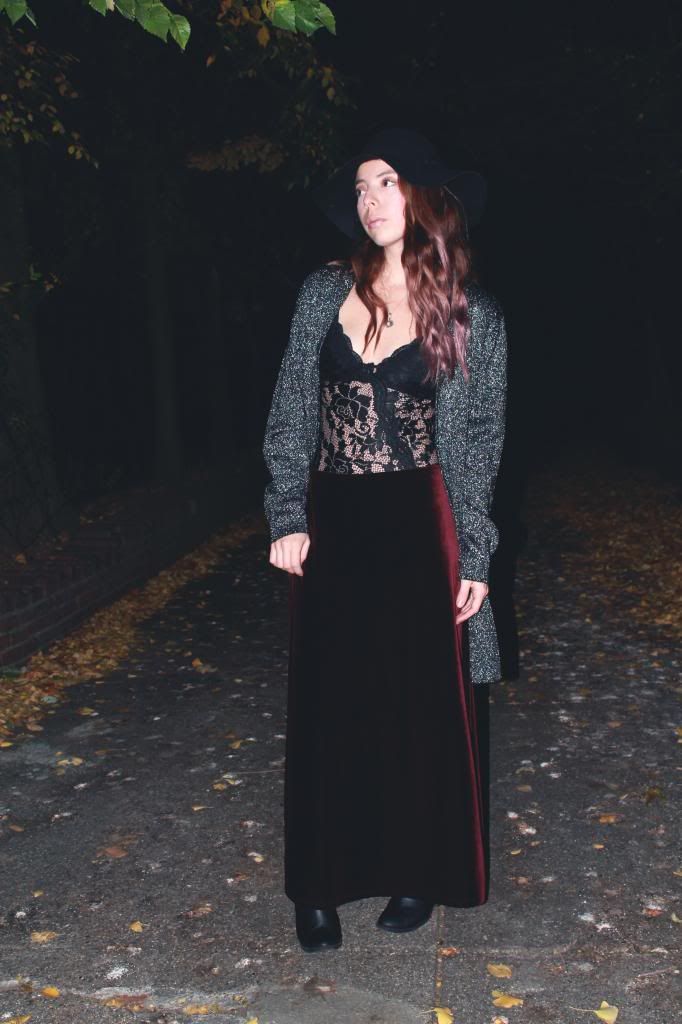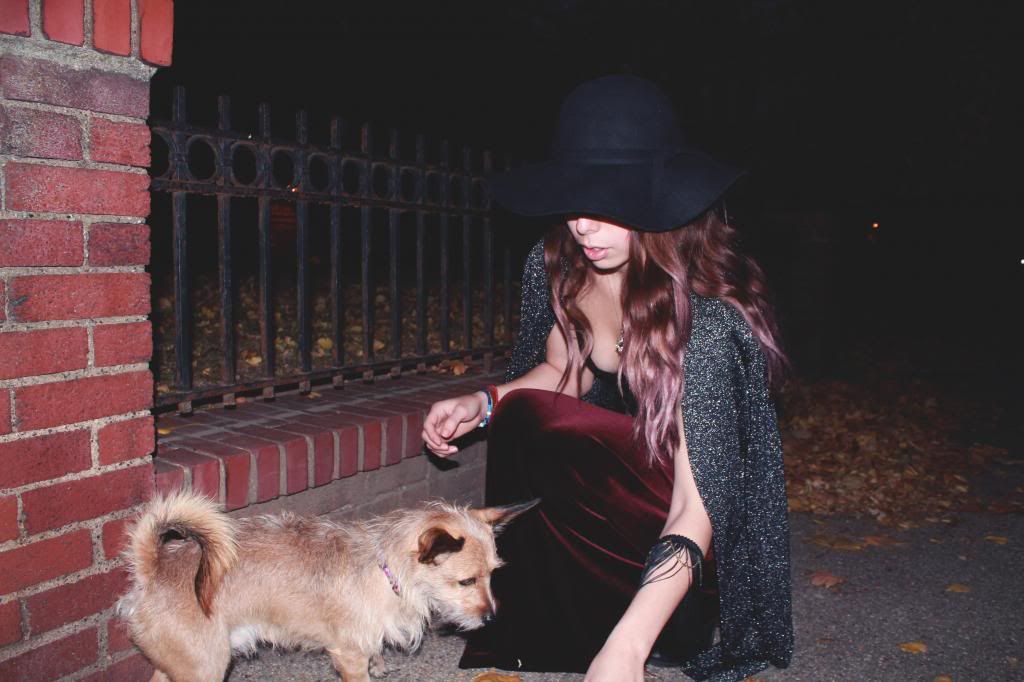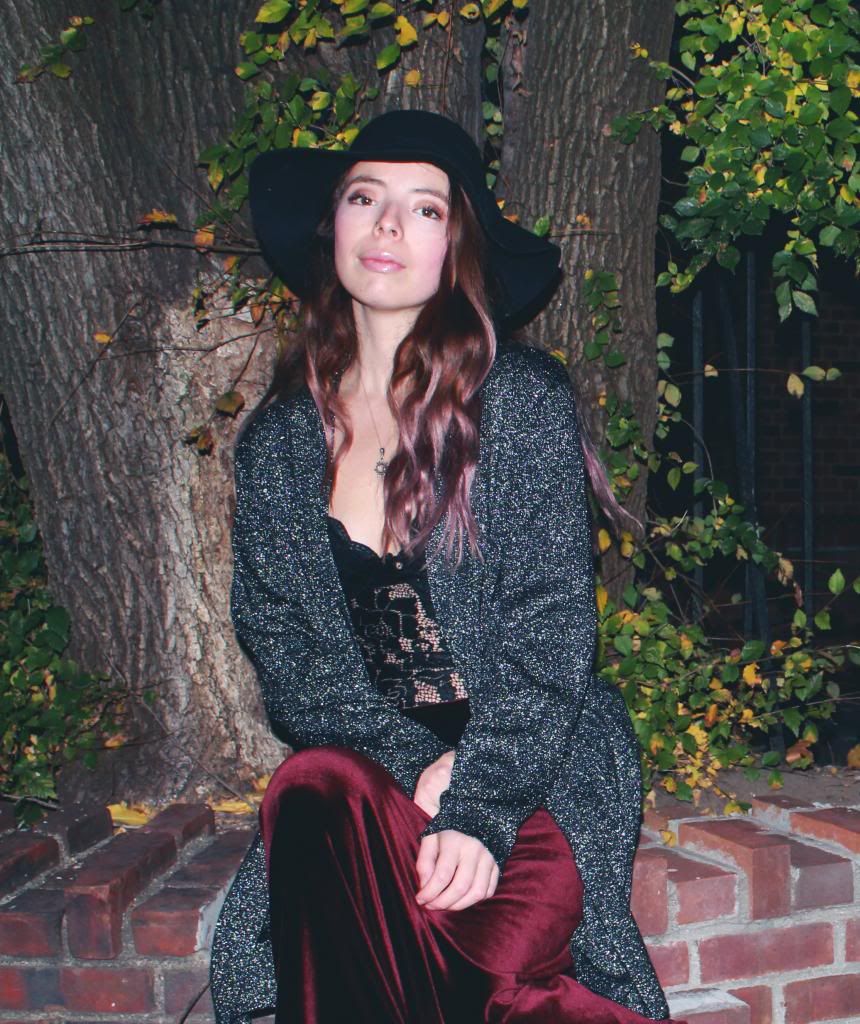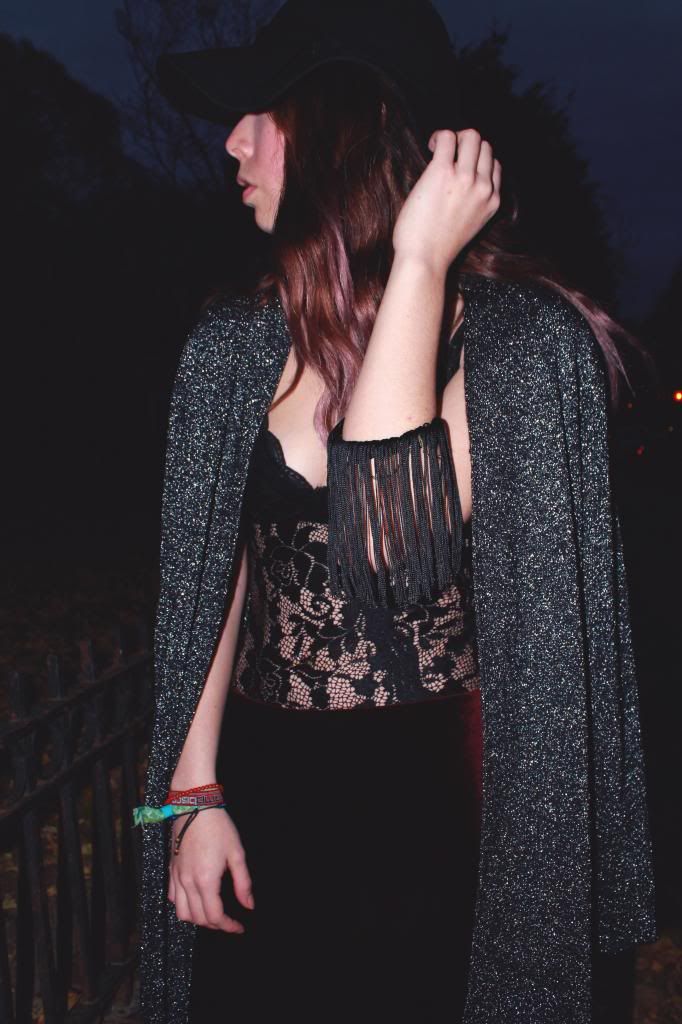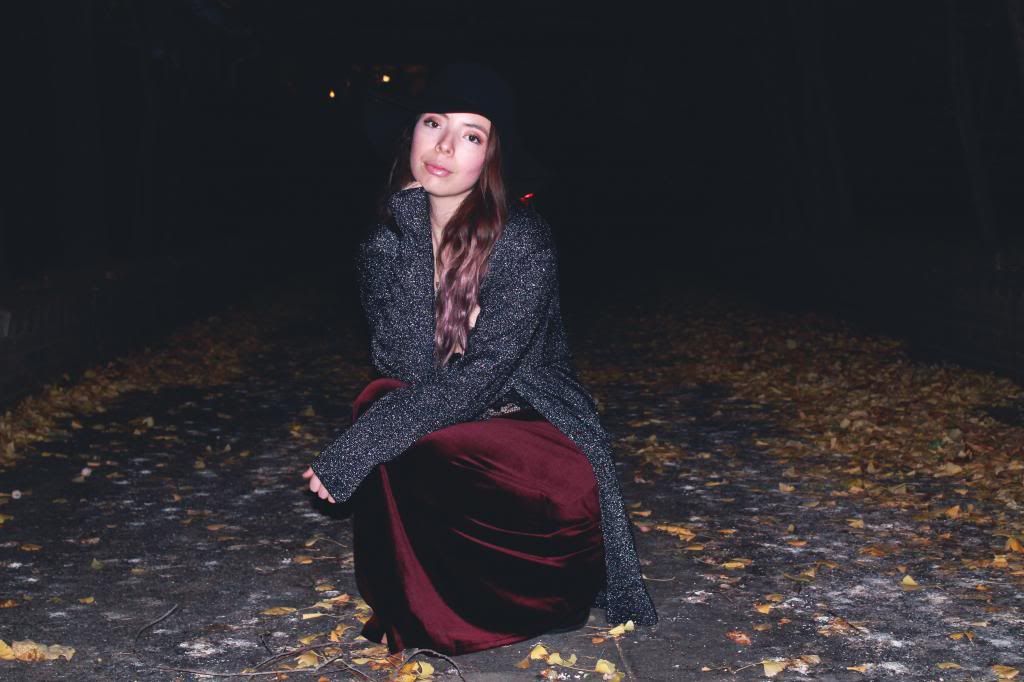 I've never liked shooting at night, mostly because the color of clothes changes a little bit with the flash and certain details can not be seen, but this outfit worked out perfectly with the light. It was actually like 4:30 so we thought it would be light enough, but it was very cloudy that day so after doing some test shots without flash we realized it wasn't working out so we decided to try some with flash and I loved it..especially because you could actually see that the skirt was burgundy and not black.
This whole outfit is thrifted except for the lace bodysuit which is really old from H&M.
The beautiful fringlet I got it as a collaboration with Crafturday, a website that sells these beautiful armlets which the designer Vanessa Aristide creatively named fringlets. What I love the most is its uniqueness and that every single one of them is hand made. I would have loved to style it with a festival outfit but unfortunately it has gotten too cold in New York, either way I loved the vibe it added to this witchy outfit shot in dark. Check out their rad fringlets here
Hope everyone is having a lovely week. xoxo
Nunca me ha gustado tomar fotos de noche, mayormente porque el color de la ropa cambia con el flash de la cámara y hay ciertos detalles no se pueden ver bien pero este conjunto era perfecto para la noche. En realidad eran como las 4:30 así que pensamos que no iba a estar tan oscuro, pero ese dia estaba súper nublado así que las fotos salían muy oscuras entonces decidimos tratar algunas con flash y me encanto el resultado..especialmente porque la falda se veía del color que es y no negra.
Todo el conjunto es de una tienda se segunda menos el body que es súper viejo de H&M.
La pulsera de brazo es de una colaboración que hice con Crafturday, una pagina que vende estos lindos accesorios de brazo que la diseñadora Vanessa Aristide creativamente nombro "fringlets". Lo que mas me gusta de ellas es que son súper únicas y son hechas a mano. Me hubiese encantado usarla con un conjunto de festival pero desafortunadamente hace demasiado frío aquí en New York, de cualquier manera ame la vibra que le dio a este conjunto medio de bruja jaja(mi nueva obsesión gracias a una serie que veo mucho). Pueden ver sus accesorios aquí.
Espero que tengan un lindo jueves besos!
ॐ
Skirt-Second hand(similar here, and here)
Cardigan-Vintage(similar here and here
Lace top-Old(similar here)
Hat- Oasap
Fringlet- Crafturday